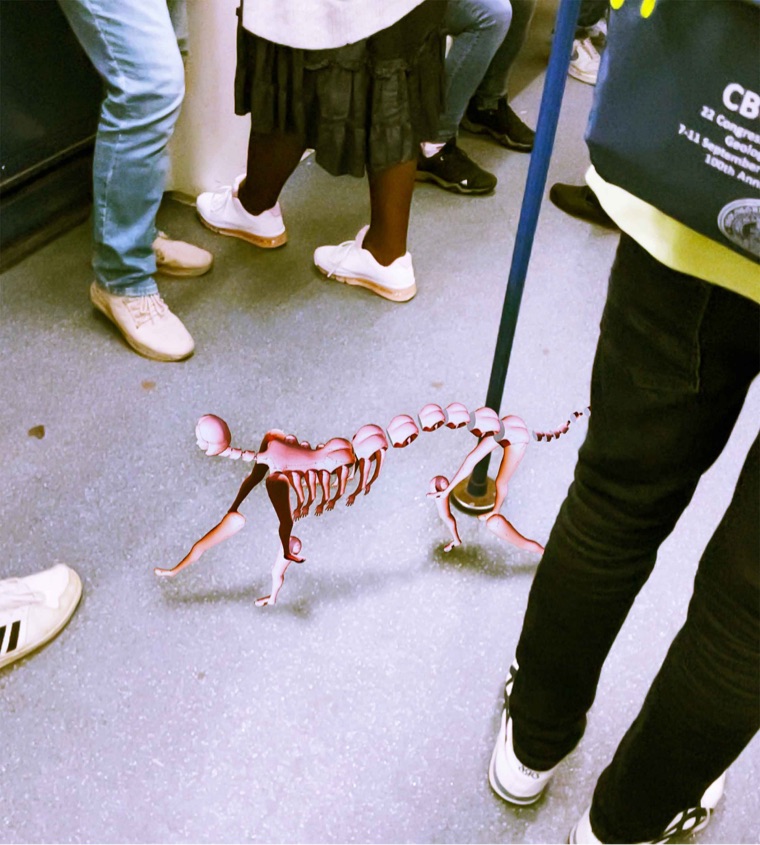 Influence
Petya Boyukova
13-10-2022 until 28-02-2023
Petya Boyukova is best known for her extraordinarily daring stage and costume designs in independent and alternative theatre. Her excursions into the gallery are rare, so gallery Gallery is proud to show her work at two locations in Sofia simultaneously.
Influence is an AR sculpture of a cat made of body parts of Barbie dolls that can now be seen at Ploshtadka, and Container VOX POPULI as part of the Object programme.
Influence the cat started its life as a prop in a theatre performance of The Effect of Gamma Rays on Man-in-the-Moon Marigolds, directed by Mariy Rosen and for which Petya Boyukova was responsible for the scenography.
The play's main protagonist Tillie talks about her school experiment that involves exposing marigold seeds to radiation in an attempt to create mutant flowers. In the performance, we next hear the voice of a little girl talking about her experiment where she boiled a cat to extract its bones.
For decades, marketing and sales departments have played their own experiments on little girls worldwide, trying to make them buy into the idea of Barbies as an ideal of beauty.
Like any form of Chinese water torture, with time, the relentless advertising turned this marketing drivel into "traditional values" on how little girls should look, dress, behave and feel.
Like Tillie's gamma-ray experiments on flowers, the great Barbie experiment has produced its own monsters.
Influence literally rips this imposed value system apart. Out of the body parts of the monster from the great Barbie experiment arises a new daemon.
Influence is a visual reappropriation of the objectified female body, turned into an animal of grace and zero-fucks-given attitudes, but also a catcher of vermin. All it takes is a viewer's interaction for Influence to blend in with the street cats that inhabit the streets surrounding Ploshtadka.
Influence can be seen at Container VOX POPULI until 18 October, and at Ploshtadka until the end of February.
Petya Boyukova is a stage designer with over 30 performances on the Bulgarian stage. She graduated with a Bachelor's degree in Scenography and a Master's degree in Costume Design at the National Academy of Arts, where she has been teaching since 2017.
Among the directors she has worked with are Stayko Murdjev, Ivan Dobchev, Grigor Antonov. A challenge for her is the work for Mariy Rosen's performances for non-theatre spaces. For Murdjev's production of Peter Quilter's Glorious at the State Theatre N.O. Masalitinov Plovdiv, she was nominated for an Ikar Award in the category of Scenography and won an award for Costume Design at the National Festival of Small Theatre Forms in Vratsa in 2020. Mariy Rosen's interpretation of The Eyes of Others by Ivan Dimitrov at the Ivan Vazov National Theatre earned her a nomination for the Askeer Award in the categories of Scenography and Costume Design.
Petya Boyukova has participated in national and international festivals and group exhibitions, including Friendly Little Creatures (Credo Bonum Gallery, Sofia, 2016, U10 Gallery, Belgrade, 2017), Theatrical Costume - Close-up (gallery Industrialna, 2016), and the general exhibitions of the Scenography Section at the Union of Bulgarian Artists. She is one of the founders of Runabout project and is part of the team of studio Reaktiv.
Influence was financed by the National Culture Fund Bulgaria.