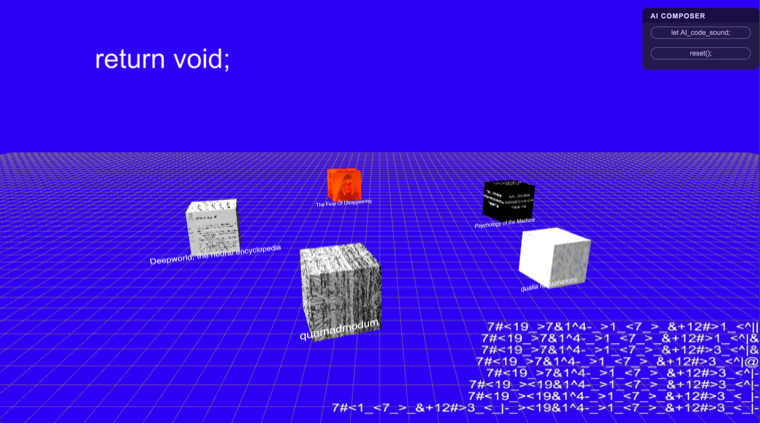 return void;
14-09-2020 until 11-11-2020
Curator: Damian T. Dziwis
Artists: Alka Cappellazzo, Damian T. Dziwis, Marco Kempf, Kathi Schulz, Tabitha Swanson, Moisés Horta Valenzuela and Simon Zimmermann
Every two years, digital art biennale the wrong showcases the work of nearly two-thousand artists in hundreds of pavilions around the world. "Counting its viewership in the millions, The Wrong just might be the world's largest art biennale — the digital world's answer to Venice", The New York Times wrote in 2018.
One of those venues during the 4th edition of the festival held earlier this year, was the ZKM | Center for Art and Media Karlsruhe (in German: Zentrum für Kunst und Medien).
The exhibition shown at ZKM, and now at gallery Gallery, was return void;, curated by Damian T. Dziwis.
return void; consists of five works; quemadmodum by Alka Cappellazzo, The Fear Of Disappearing by Kathi Schulz, ML Does Rorschach Tests and qualia hallucinations by Tabitha Swanson and Moisés Horta Valenzuela, and Deepworld by Marco Kempf and Simon Zimmermann, with a navigation that is accompanied by an AI-generated soundtrack by Damian T. Dziwis.
Each in their own way, these works use artificial intelligence and machine learning to explore how we understand, construct, and divide ourselves and the world around us. Each work uses its own, unique approach to the problem. In qualia hallucinations, for example, an AI attempts to reflect upon itself, while Deepworld analyses and reconfigures, in an attempt to make sense of, our bizarre construct of nation states.
Part funhouse, part speculative future, return void; is an exhibition you will want to revisit.
Damian T. Dziwis is a composer and engineer, who is based in Düsseldorf (Germany). He creates the majority of his multi-medial work with audiovisual, generative algorithms, machine learning and artificial intelligence, live coding or DIY electronics. Dziwis began his artistic education in instrumental composition under David Graham, followed by electronic composition under Christian Banasik, and finalized it with his master studies in electronic composition under Michael Beil in Cologne.
Tabitha Swanson is a multi-disciplinary designer and creative technologist, who is based in Berlin. She comes from a background of design, fashion, and marketing, and is currently focused on 3D animation, creative coding, extended reality, and interactions between people and technology.
Kathi Schulz lives and works in Düsseldorf. Her work explores the correlation of internet culture, perception and communication. By combining a variety of different media within her work such as video, installation, live streaming and painting she is creating a point of intersection between new media and painting.
Marco Kempf is a student at the Media Art Department of the Karlsruhe University of Arts and Design. He previously studied digital media (BA) at the University of Applied Science, Darmstadt, where he explored his interests in sonic arts. In 2015, he received a scholarship for an exchange program between the HfG, Karlsruhe and the University of California, Santa Barbara. Marco Kempf works in media art, musical performance / installation and creative coding where he investigates how technology, creativity, society, and economy can transform one another.
Simon Zimmermann is a musician and developer who currently discovers new musical terrain in experimental electronic music and media art. Zimmermann is based in Düsseldorf. Besides his artistic pursuits under the aliases "Sigmoid" and the collaborative projects Exolar and KRAFT, he is a researcher at the spatial audio company Dear Reality where he works on Audio Digital Signal Processing and Machine Learning.
Moisés Horta Valenzuela is a sound artist and electronic musician from Tijuana, México, who works with computer music and creative sound technologies. His work is characterised by conceptual juxtapositions between dichotomies, such as utopia and dystopia, or folk traditions with capitalist modernity. He is currently based in Berlin and works on developing new interfaces for musical expression, immersive sound spatialisation, data sonification, sound design, autonomous interactive installations. In his work, he combines A.I. with Machine Learning for musical applications, as well as procedural sound for video games and VR.
Alka Cappellazzo is an artist and creative coder, focused on bidimensional and tridimensional patterns. She is fascinated by the dichotomic nature of patterns: order and chaos. Cappellazzo graduated from the Brera Academy of Fine Arts with a degree in New Technologies for Arts and Network Media. She is also the current vice-president and co-founder of Codice Inutile, a collective of "artists and programmers born to explore and spread the potential of code" in Italy. She works as a front-end developer.