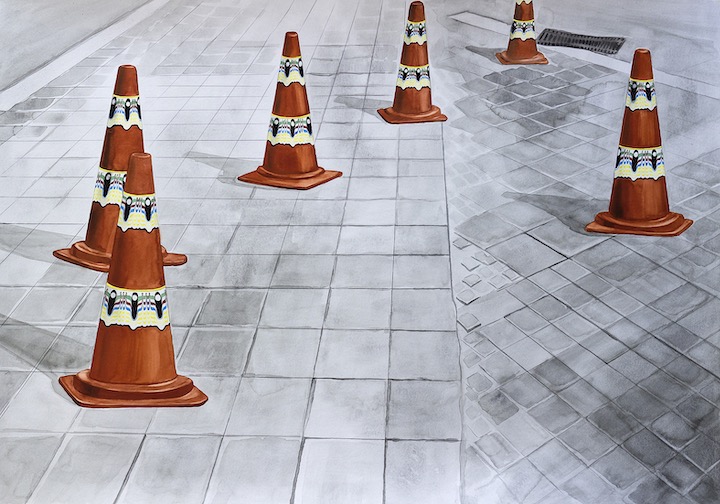 Recent Myths with Traditional Patterns
Zara Alexandrova and Zoran Georgiev
10-01-2020 until 03-03-2020
Zara and Zoran use symbols and motifs of Bulgarian tradition and folklore in their collaborative projects to reveal aspects and problems in contemporary culture. Their minimal interventions of objects and project drawings modify or sometimes complete the meaning of found objects or structures. Through these almost grotesque transformations, they come into conflict with ethnocentrism, growing populism, local propaganda, pseudo-patriotism and a fear of all that is alien.
In their project for Gallery Gallery's virtual space, they created an interactive map of Bulgaria with marked locations. Each location is represented by a drawing in which the artists have inserted characteristic Trojan pottery motifs. These motifs have been widely used since the middle of the last century as generic symbols of Bulgarian tradition. The locations on the map are marked using pictograms that separate the drawings into categories of Construction Sites, Cultural Transmissions and Assimilated Objects.
The drawings in Construction Sites comment on the low-quality repairs and inadequate restoration work of public buildings and archeological sites in the country. The painfully familiar and commercialized motif of traditional Troyan pottery is a metaphor for the incompetent pseudo-patriotic approach to public space and cultural heritage.
In the Cultural Transmission series, satellite antennas and megaphone systems that are commonly used to announce national alarms are located at major border crossing points where they serve to distribute national propaganda. The artists highlight a growing nationalist tendencies in the world by looking at their own cultural traditions and values. These values are characteristic for cultural ethnocentrism and, upon reaching the borders of its territory, they can do nothing but scream.
In the Assimilated Objects series Zara and Zoran pay homage to some of the most influential artists of the 20th century. The series consists of ready-made works that are depicted as ceramic objects with a Trojan style decorative pattern. The artists want to turn the audience's attention to practices that are widely used in contemporary art, and to declare the ready-made, more than 100 years after it first emerged, as a traditional artistic medium. Viewers are encouraged to interpret what is seen as criticism or as praise. All thoughts that may arise while viewing the exhibition are subject to copyright. However, unlicensed distribution of these thoughts is highly recommended.
Zara Alexandrova and Zoran Georgiev are a duo of contemporary artists who, outside their collective projects, each have an impressive individual career. She is from Bulgaria, he is from North Macedonia. Both obtained a masters' degree from the National Academy of Arts in Sofia. They currently live and work in Berlin.
Zara has received several awards for her work, including the Red Carpet Recognition Award for young art (Austria, 2014), Geselschafter Art Award (Germany, 2009) and the Gaudenz B.Ruf Award for New Bulgarian Art (Bulgaria, 2007). In 2014 she was nominated for the BAZA Award, which Zoran won that year. Zoran also won the Essl Art Award for Young Artist from Central and Eastern Europe (2013) and the Award for Painting from the International Foundation St. St. Cyril and Methodius (2011).
Both artists have participated in numerous exhibitions in Bulgaria and abroad. Their collective work has been shown at exhibitions such as Dimensions of Publicness, 24th Gabrovo Biennial of Humour and Satire in Art, Museum of Humour and Satire in Art, Gabrovo, BG (2019); XX Cerveira International Biennial, Vila Plana De Cerveira, PO (2018); Shifting Layers, Young Art at the Museum, Sofia City Art Gallery, BG (2017); Per Anhalter, Kunsthalle am Hamburger Platz, Berlin, DE (2016); Focus Bulgaria, Vienna contemporary, Vienna, AT (2015); Art For Change, Sofia City Art Gallery, BG (2015) and Love, Rayko Aleksiev Gallery, Sofia, BG (2012).
Zoran has shown his work in solo exhibitions Mission Failed, ICA Sofia, BG (2017); Nostalgic Future, Vaska Emanouilova Gallery, Sofia, BG (2014); Capital, 0GMS Gallery, Sofia, BG (2012) and Temporary, but Permanent, Sariev Contemporary, Plovdiv, BG (2012).