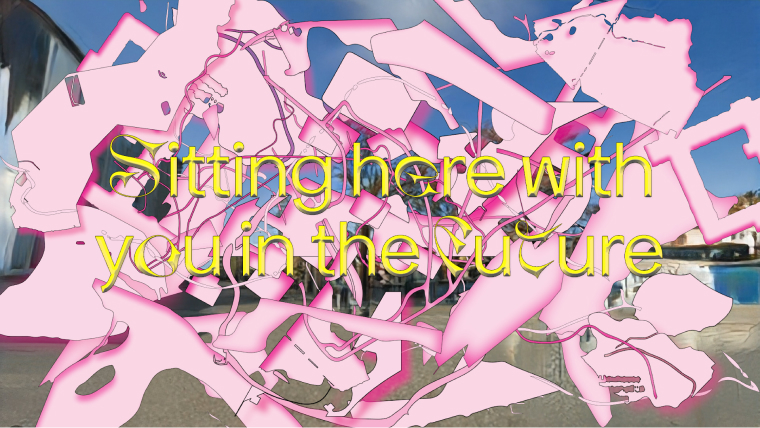 Sitting here with you in the future
Lucas LaRochelle
31-03-2022 until 15-05-2022
In 2017, Lucas LaRochelle launched Queering the Map, an artistic project that has since collected more than 200 000 user-contributed stories of LGBTQ2IA+ experiences from across the world. Queering the Map contains queer and trans narratives about events that include coming out in front of friends and parents, first meetings, last meetings, and of lost love, covering everything from tender moments of intimacy and connection to experiences of trauma, violence and dehumanization.
Each story is connected to a location on a map, a real-world location where the event took place or that triggered the story.
Two years later, using a selection of 82 000 of these stories, Lucas trained a GPT-2 text-generation Artificial Intelligence (AI) to write its own narratives for what became QT.Bot.
Although the GPT-2 AI is intended to create texts that are virtually indistinguishable from human-produced texts, many of the narratives created by QT.Bot refuse that logic, creating what Lucas calls "queer failure" and "a space of possibility".
Along with the GPT-2 AI, Lucas trained a StyleGAN AI on scraped Google Street View imagery of the tagged locations from Queering The Map. This StyleGAN then generated new virtual spaces that became the locations for the narratives from the GPT-2 AI.
The result is Sitting here with you in the future, an 8-minute video narrative of a speculative LGBTQ2IA+ life, which, as Lucas says, "straddle(s) the line between the plausible and the fantastic, revelling in the potential of failure, chaos and incommensurability in the queer use of machine learning technologies".
Although trained on the archive from Queering the Map, Sitting here with you in the future is an exercise in possible futures.
Lucas LaRochelle is a designer and researcher whose work is concerned with queer and trans digital cultures, community-based archiving, and co-creative media. They are based in Tiohtià:ke/Mooniyang/Montreal.
Lucas has lectured, facilitated, and exhibited nationally and internationally, recently at The Guggenheim Museum (USA), MUTEK (Canada), Ars Electronica (Austria), Somerset House (UK), Onomatopee Projects (Netherlands), fanfare (Netherlands), OTHERWISE Festival (Zurich), Ada X (Canada) and SBC Gallery (Canada). They have presented research at The Bartlett School of Architecture, University of Puerto Rico Rio Piedras School of Architecture, University of Cambridge and Stanford University, amongst other academic institutions.
Lucas' essay Queering The Map: On Designing Digital Queer Space was published in the book Queer Sites in Global Contexts: Technologies, Spaces, and Otherness in 2021.
Queering The Map was awarded an Honorary Mention for the 2018 Prix Ars Electronica in the Digital Communities category, was nominated for the Lumen Prize for Digital Art and the Kantar Information is Beautiful Awards, and is included in the Library of Congress LGBTQ+ Studies Web Archive.