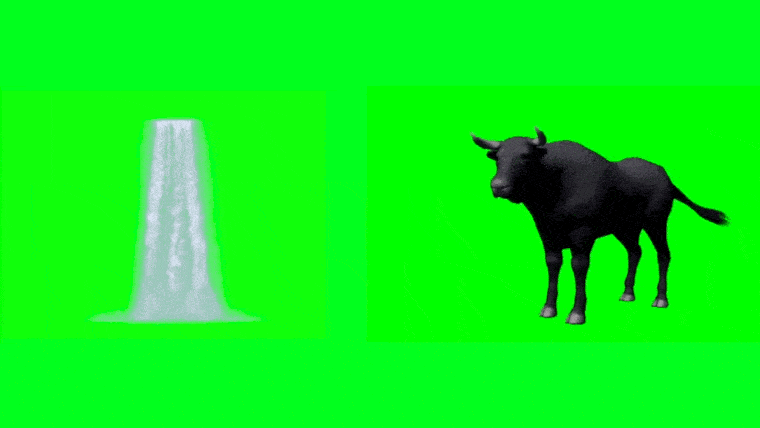 Top 84 Ways of Going Greener at Home
Krassimir Terziev
15-05-2020 until 10-07-2020
Top 84 Ways of Going Greener at Home can be seen online and via our gallery router.
In many of his works, Krassimir Terziev uses the language and technology of cinema and television to investigate and comment on how their shared visual culture shapes or affects our social and political world in unexpected ways.
His latest work, Top 84 Ways of Going Greener at Home, created specifically for gallery Gallery, is a digital tapestry that consists of 84 green screen stock videos, all running in parallel on infinite repeat.
Green screens are used in cinema, television and in the game industry to remove a person or object from its background so that these can be placed in a new setting. This new composite image is by definition one that is otherwise hard or impossible to create, either physically or because of the effort, money or danger involved. Every image that Terziev selected for his green screen tapestry falls well within this category.
The green screen is one of cinema's most powerful tools to create illusions where the impossible becomes believable.
Top 84 Ways of Going Greener at Home can only be seen through a device that is connected to gallery Gallery's wifi network or through the gallery website. In most cases, this device is the visitor's own telephone, tablet or computer.
Terziev uses our intimate relationship with these screens to allow visitors to become completely enveloped in his green screen tapestry. He refers to it as this "perfect interior that lets you teleport yourself anywhere in the world and beyond, just not here. A place where you can expand your fantasies freely, without the constraints of your circumstances. As a quantum particle, you can even be in several places at once. You can change the past, present and future according to your mood. It is telemagic, equal only to the art of Anatoly Kashpirovsky."
In other words, this is Netflix binging on steroids.
There is, however, another side to the work. Green screen technology came into widespread use around the same time when "green" entered our political discourse in the 70s and 80s of the last century.
Today, we are surrounded by an endless array of products and services, produced by countless startups that have received hundreds of millions of dollars in venture capital funding, all to sell us on the promise that these products and services will help us live greener better lives. These products and services will magically separate us from our environment and teleport us into green living bliss, even if that is only a substitute composite which, like the stock video in Top 84 Best Ways to Become Greener at Home, is too difficult to realise otherwise.
Top 84 Ways of Going Greener at Home was conceived in the months before the Covid-19 pandemic, and was originally planned to open in the week in which much of world went into lockdown. Two months later, with the experience of having to stay at home for weeks on end, Krassimir's work takes on a new meaning.
Krassimir Terziev is an interdisciplinary artist and researcher whose work spans a diversity of media, including video/film, photography, painting/drawing, and text, questioning the boundaries between reality and fiction, while exploring the manifold transitions and tensions between a globalized world, dominated by overwhelming multiplicity of symbolic imagery, and its material groundings in technological, physical and human 'hardware'.
Among his recent solow exhibitions are: "Future Unfrgettable", Versus Art Project, Istanbul (2019); "Between the Past That is About to Happen and the Future That has Already Been" National Gallery, Sofia (2015); "Космополис" ICA-Sofia (2013); "Background Action" Württembergischer Kunstverein, Stuttgart (2008). He took part in international exhibitions such as: Listen to Us – Artistic Intelligence (Works from Art Collection Telekom), The City Art Gallery, SKLAD, Old Plovdiv Museum Houses / Plovdiv European Capital of Culture 2019; curated by Nathalie Hoyos and Rainald Schumacher (2019); Grammar of Freedom / Five Lessons: Works from ARTEAST 2000+ Collection, Garage Museum of Contemporary Art, Moscow; curated by Zdenka Badovinac, Snejana Krasteva, and Bojana Piškur (2015); Art for Change 1985-2015, Sofia City Art Gallery; curated by Maria Vassileva (2015); 3-rd Mardin Biennale, Turkey (2014); "The Projection Project" Kunsthalle Budapest (2007), Museum of Contamporary Art (MuHKA), Antwerp (2006); "Kino wie noch nie" Akademie der Kunste, Berlin (2007), Generali Foundation, Vienna (2006); "New Video New Europe. A Survey of Eastern European Video" The Kitchen, New York (2006), Stedelijk Museum, Amsterdam (2005); Renaissance Society, Chicago (2004), TATE Modern, London (2004).
His work is part of the collections of Centre Pompidou/MNAM; Arteast 2000+ Collection, Moderna Galerija Ljubljana; Sofia City Art Gallery; Art Collection Telekom; Kunstsammlung HypoVereinsbank; Gaudenz B. Ruf Collection; Art Project Depot; Dana and Georgi Voynov Collection among others.
He holds a Ph.D. in Cultural Anthropology from Sofia University (2012) and an MA degree in Painting from the National Academy of Arts, Sofia (1997).
Top 84 Ways of Going Greener at Home has been realised with support from the Solidarity in Culture programme, Sofia Municipality.