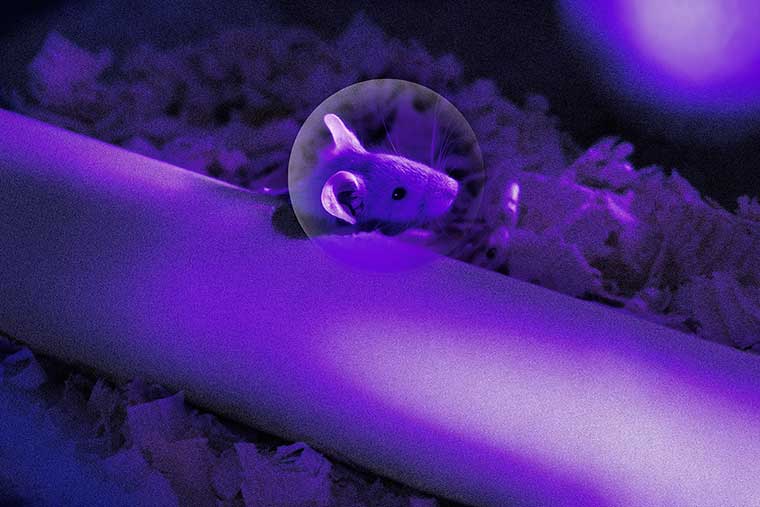 I Don't Want to Live on this Planet Anymore
Diana Boneva
13-11-2020 until 10-01-2021
I Don't Want to Live on this Planet Anymore can be seen online and via our gallery router.
Diana Boneva's latest work I Don't Want to Live on this Planet Anymore is a short story of two mice. The story starts at the moment when the mice reach the same conclusion as Professor Farnsworth in A Clockwork Origin, to which Diana's work owes its title.
In the episode of Futurama, professor Farnsworth defends science from creationism, only to see everything he does, even his most significant contribution to science, being turned into supposed evidence for creationism. Farnsworth concludes that he does not want to live on this planet anymore. He leaves for an uninhabited planet, only to accidentally become the Creator of the evolution of an intelligent species of robots.
Diana created I Don't Want to Live on this Planet Anymore under Covid-19 lockdown, while society started to exhibit behaviour that resembled what ethologist John Calhoun, based on his experiments with mice, called the Behavioral sink, a concept that has since become a cornerstone of theories about societal collapse.
Unlike Calhoun's mice, the mice in I Don't Want to Live on this Planet Anymore decide to follow in Professor Farnsworth's footsteps and leave planet Earth. Like Farnsworth, the mice find that life outside our planet strangely resembles life back home.
Besides a comment on today's post-truth, post-democratic society, I Don't Want to Live on this Planet Anymore is also a fable of Bulgaria since the fall of the communist regime. Diana belongs to a generation of Bulgarian artists, who grew up post-1989, when leaving the country for "a better place" was the logical thing to do for many of her contemporaries.
Diana Boneva studied Ceramics at the National Academy of Art in Sofia, Bulgaria. After her first solo exhibition, she switched to working with video, installation art and performances.
In her work, she explores relationships at an individual and a societal level.
Diana's work has been presented at the first Biennale of contemporary art in Casablanca, Morocco (2012), as well as festivals in Belgium, Bulgaria and Finland. Between 2014 and 2019 she worked with visually impared people on a project called Positive. This project was presented in Sofia, Tryavna and Plovdiv.