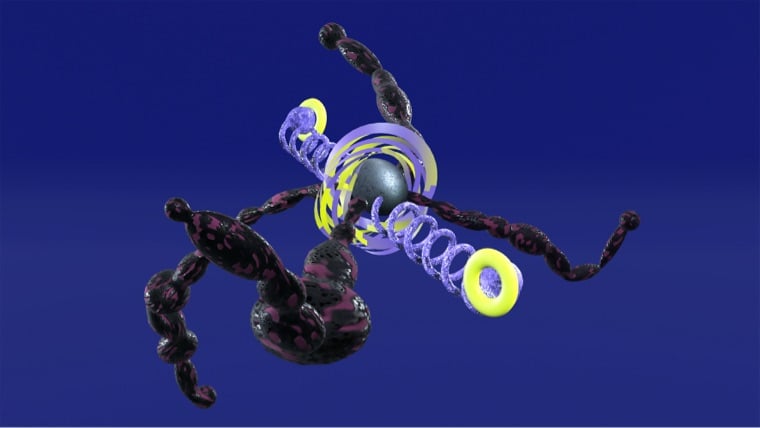 Cosmophonatic
Dagmar Schürrer
20-01-2022 until 15-05-2022
Location: gallery Gallery's sculpture park Ploshtadka, Elisaveta Bagryana str., Sofia, across from the Registry Agency.
Dagmar Schürrer is well known for her video work, which deals with materiality in late capitalist paranoia and projected utopian futures. It also interrogates our relationship to developments in both analogue and digital technologies.
In recent years, with works like Virtualized (2020), Galaxy (2020), and We Are Already History, And We Don´t Know It (2021), Dagmar expanded the video screens and projections in her work with augmented reality (AR).
Her new work, Cosmophonatic was first shown as a Virtual Reality (VR) sculpture. Now, at Ploshadka, we'll show Cosmophonatic as Augmented Reality.
In Cosmophonatic, Dagmar uses Augmented Reality to create a mediation on the physicality of the now. The sculpture resembles something between an organic multi-armed living being and a machine from a fully-robotic assembly line. It is accompanied by two simultaneous soundtracks.
One soundtrack consists of a collage of everyday electronic sounds and telephones ringing. The second soundtrack is a voice repeating the same text over and over again.
The text is inspired by the book Das All und das Nichts by Stefan Klein (published in English as How to Love the Universe).
In Cosmophonatic, the voice tells us that the now is perceived immediately through our physical senses. The history of these perceptions is what we call the past, where the state of these senses is unknown, is what we tend to call the future. This is how we construct the passage of time.
In the virtual, Cosmophonatic argues, objects are carriers of information, which are not defined by properties that our physical senses can perceive. They can exist in multiple places at once, and properties may or may not change over time.
This new materiality forces us to rethink our linear concepts of space, time and transience.
Dagmar Schürrer is a media artist based in Berlin, Germany. The digital image, found and generated, is her material to form a visual language to reflect on the peculiar characteristics and the societal and individual implications of digital space. She assembles digitally generated objects and animations, text, drawings and sound to form intricate video sound montages, evocative of painting, collage or poetry.
She holds a degree in Fine Art from Central Saint Martin ́s College in London, UK. Her work has been exhibited internationally, amongst others at the New Contemporaries at the ICA London, the Moscow Biennale for Young Art, Transmediale Vorspiel in Berlin and the Museum of Waste in Changsha, China. Her videos have been screened at numerous festivals: SUPERNOVA in Denver, the Seattle Film Festival, the Athens Digital Arts Festival, the Horn Experimental Film Festival in Israel, Tricky Women Festival in Vienna, and the Diagonale Film Festival in Graz. She received the Goldrausch Scholarship of the Senate of Berlin and was shortlisted for the Berlin Art Prize and the Tenderpixel Award in London.