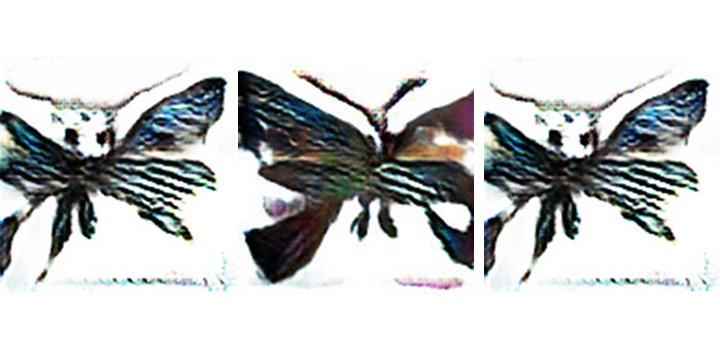 Dangerous Creatures Living in the Deep
Albena Baeva
01-11-2019 until 01-01-2020
What would an AI algorithm look like if it could imagine its own body? Would it choose to look like a robot as in the movies, or would it prefer to be a blond, non-threatening, girl or a cute animal? Would it choose to be female, male, animal or something else entirely; something new and unexpected?
How does an AI algorithm perceive itself? What is its self-image, and what form would it choose if it could? Albena Baeva trains a self-learning algorithm to find its identity by letting it create self-portraits. Analysing hundreds of thousands of different bodies found online, the algorithm creates new self-portraits; like avatars in its image.
Albena Baeva creates interactive installations for urban spaces and galleries for which she uses new technologies, creative programming and DIY practices. She has two MAs; in Restoration (2008) and in Digital Art (2010) from the National Academy of Art in Sofia where she specialized in technologies of art practices from 12th to 21st century. In 2011 she was awarded the international Essl Art Award for contemporary art and Vienna Insurance Group Special Invitation.
She is co-founder of Runabout project, a platform for interdisciplinary performances and studio for interactive design Reaktiv. Within Runabout project she works with musicians, dancers, poets and engineers to create new interactive performance instruments.
Her works have been shown in museums for contemporary art like Essl (Austria, 2011), EMMA (Finland, 2013), Museum for contemporary art Vojvodina (Serbia, 2015), at galleries and festivals for video and performance in Austria, Bulgaria, Czech Republic, Cyprus, Denmark, France, Finland, Germany, Hungary, Italy, Lithuania, Switzerland, Serbia, Turkey, Ukraine and USA.
The exhibition Dangerous Creatures Living in the Deep is part of the wrong biennale